Herlyn‐Werner-Wundelich Syndrome (i.e., renal agenesis and an ipsilateral blind hemivagina) was initially described in 1971 by Herlyn and Werner.
In 1976, Wunderlich described an association of right renal aplasia with a bicornuate uterus and simple vagina in the presence of an isolated hematocervix. Its estimated incidence is 0.1%–3.8%. The most prevalent obstructive uterine abnormality is HWWs [6,7].
Embryologically the Müllerian (paramesonephric) system develops separate from the gonads, but in close association with, and proximity to the Wolffian (mesonephric) system. Consequently, developmental anomalies are seen in the two systems concurrently frequently. The exact pathogenesis is not fully understood.
Unilateral Müllerian duct anomaly is associated with ipsilateral renal anomaly mainly renal agenesis. Failure of fusion of the Müllerian duct at around 6 to 12 weeks of gestation can lead to a spectrum of Müllerian duct anomaly. Uterus didelphys comprises between 5% and 11% of all Müllerian duct anomalies [2]. Based on an examination of patients with HWWs at Peking Union Medical College Hospital, Zhu et al. 2015, suggested a thorough classification [6]. The classification is based on connectivity between the uterine chambers and whether there is a complete or imperfect septum between the vaginas. According to the proposed taxonomy, four categories were found.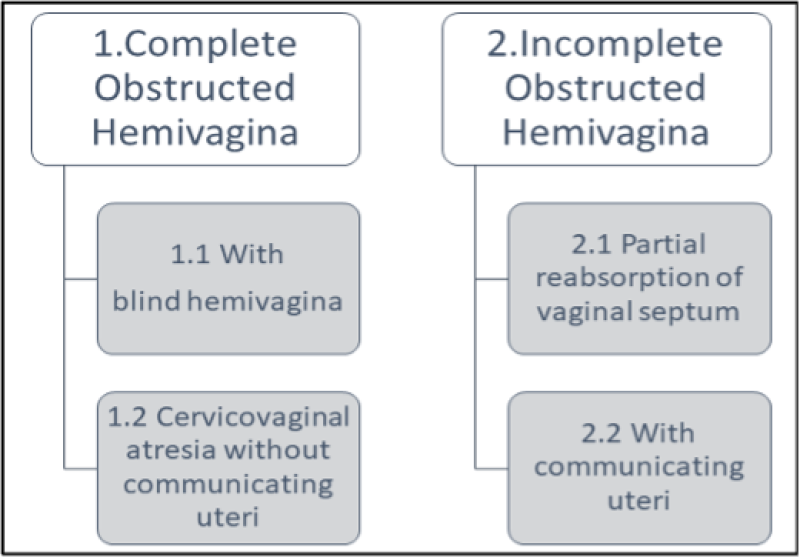 Figure 6: Classification of Herlyn‐Werner‐Wunderlich Syndrome on the basis of communication between two uteri and hemivagina [6].
1.1: In this subtype, the uterus behind the septum is entirely separate from the uterus on the opposite side. It can present with hematocolpos. hematometra, hematosalpinx as well as bleeding in peri-adnexal and peritoneal space. The onset of symptoms could be from a few weeks to months after menarche.
1.2: In this subtype, the cervix behind the septum is maldeveloped or atretic. The menstrual blood cannot outflow through this atretic cervix. Clinical features are the same as subtype 1.1.
2.1: This subtype includes a minor communication within two vaginas. The menstrual blood will outflow through this small gap, but the free drainage is impeded. The onset of symptoms in these patients could be delayed till the late 20s. The patient can present with mucopurulent or bloody vaginal discharge and can often have ascending genitourinary infections. Such patients could be easily confused with acute PID, endometriosis, recurrent UTI, or urosepsis.
2.2: This subtype is characterized by a modest communication between duplicated cervices, which allows the uterine follicle behind the septum to readily empty its menstrual blood but still impairs it.
According to this classification, the patient can fall into category 2.1, which explains the delayed onset of symptoms including lower abdominal pain, and mucopurulent vaginal discharge, however, another argument for the delayed presentation could be repeated use of antibiotics since last few years due to recurrent UTIs that has temporarily masked the condition. A detailed study by Milan University depicted that right-sided anomaly is two-fold more prevalent than left-sided anomaly (91/ 138 cases) [7].
In this case, the irregularity was verified in this instance on the left side. The majority of HWW cases are identified in patients between the ages of 13 and 25; however, in India, a 34-year-old lady was diagnosed with OHVIRA while undergoing testing for infertility [7].
The most common presentations are lower abdominal pain, dysmenorrhea, and tender vaginal mass. Additionally, the patient may have uncommon symptoms like recurrent UTIs, urinary retention, or chronic pelvic pain, the patient had similar symptoms. To control symptoms and minimize long-term problems, early and precise identification of HWWs is crucial (pelvic adhesions, endometriosis, infertility, pyosalpinx, and pyometra). Magnetic Resonance Imaging (MRI) is the gold standard and investigation of choice in diagnosing and classifying Müllerian duct anomalies [2].
Laparoscopy can also be used as an adjuvant diagnostic modality for the complete evaluation of congenital anomalies of the female urogenital tract. As in the patient's, laparoscopy helped us in diagnosing coexisting endometriosis in the pouch of Douglas, which didn't correlate with the patient's clinical symptoms.
The most effective method of treatment is complete surgical excision of the vaginal septum that will not only relieve the outflow tract obstruction but also prevent long-term consequences like endometriosis and infertility. Most patients get complete benefits from resection of the vaginal septum in terms of symptom relief [1]. The fertility of patients with HWWs is usually not affected if diagnosed and treated early [2,7].