The Complete Results of the Survey can be found in Supplemental Information 2,3 and 4. Twelve of the thirteen participants said they pursued medical tourism for their treatment because there were no other options for their condition. This answer is consistent with past research into medical tourism. This "lack of other options" shows that the FDA is too slow to offer new treatment options. What was unexpected is that eleven of the thirteen wanted to play a part in developing technology for the future and two participants said they did it out of curiosity and because they wanted to try something new.
While four of the 13 specifically emphasized the aesthetic aspect of the therapy, this research shows that the primary motive is health rather than simply appearance. Over half of the participants claimed that they did much research before choosing the therapy, and the rest did enough research to conclude there was no other option for their disease. No participant claimed to have not researched their options. These answers point to this study having an educated group of participants. The participants general beliefs about diseases and regulatory processes for obtaining treatment contributed to their reasons for participation in medical tourism more so than other factors that were looked at. Over 90% of respondents considered aging a disease (Figure 1).
This answer is consistent with current trends in science and indicates that they thought aging is a condition and not just a natural untreatable process. It also displays the participants educated themselves in modern technology before partaking in offshore therapies. All respondents thought they, not the government, should choose their healthcare. Over half preferred medical tourism over standard care, possibly because medical tourism offers them more choices as well as medical doctors who will enthusiastically try new procedures in a timely manner. Again, this educated group of participants had time to assess their options, and their decisions led them to medical tourism.
Figure 1: Most participants considered biological aging itself to be a disease.
Over half of the respondents believed that regulated drugs were safer; the other half did not agree. This is consistent with the literature review findings that people are becoming less happy with traditional options and may view them as unsafe. Even those who thought regulated drugs were safer, due to no other options for their condition, still chose medical tourism. Most respondents were inclined to believe that their disease stemmed from their genes.Only two out of thirteen believed aging would be cured in their lifetime. This belief is interesting as 11 out of 13 stated they wanted to partake in the development of new technology in the reasoning section of the questionnaire. This answer may indicate altruism by the participants. When asked how their life had changed since therapy, 77% were the same or better than before; 23.1% claimed to feel worse. 100% of participants wanted these types of treatments to be allowed in the United States, supporting the need for BCM (Figure 2).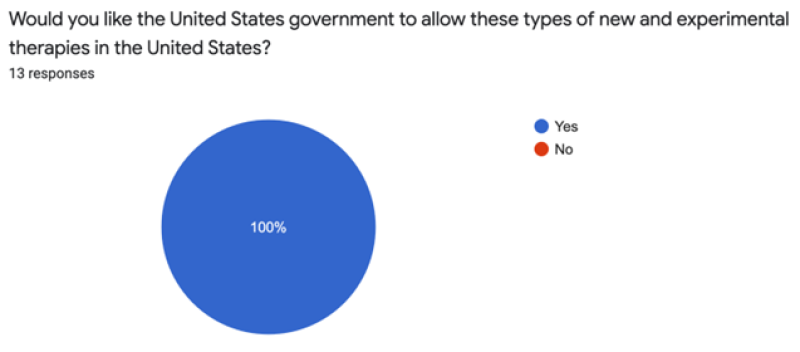 Figure 2: 100% of participants wanted these types of treatments to be allowed in the United States.
The perceived safety section of the survey allowed the researcher to identify how risky the participants perceived medical tourism to be during the COVID-19 pandemic. Participants were asked if they identified as risk-takers. Only one participant strongly agreed that he/she strongly identified as a risk-taker. Four considered themselves moderate to low risk-takers, and eight were above average risk-takers. When asked, all the participants considered themselves well-informed about the process except one who wrote that they initially felt informed before treatment but no longer after treatment when the doctor gave short answers to their questions. Those short answers from the doctor left the participant feeling less informed about post-care but not treatment. These answers could point to medical tourism not just being for risk-takers and that even self-described low-risk-takers are interested in participating. Indeed, participants may have felt that not treating their disease and relying on traditional medicine was riskier than participating in medical tourism during COVID-19. No respondents recommended against others taking the same therapies (Figure 3). This desire to share information with others is a key finding.

Figure 3: All participants would at least consider suggesting that others take part in medical tourism.
The participants traveled to take part in medical tourism, so questions about the perceived safety of their travel experience were part of the questionnaire. All respondents said they felt safe traveling during the COVID-19 pandemic. All also felt safe during their procedure which dispels the perception that these types of therapies are done in precarious or haphazard situations. Twelve of the participants considered that their comfort level may have been "above average" throughout the process, while two participants strongly agreed that it had. One participant rated the comfort level at a 3 out of 10, but it is uncertain what part of the process was uncomfortable. Over half of the respondents preferred the medical tourism experience over their previous primary health care in the U.S.Approximately 78% would participate in medical tourism again, while 23% suggested they might participate again (Figure 4). No one selected that they would never participate in medical tourism again. Over 84% felt it was easy to communicate with the doctor after therapy, while 15% did not.Most of the participants felt that practical steps were taken to keep them from getting sick. None of the participants contracted COVID-19 during their medical tourism experience.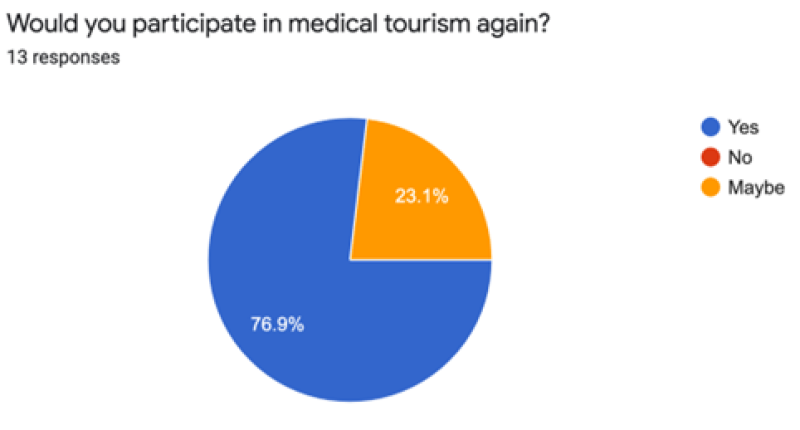 Figure 4: All participants either would participate in medical tourism again or consider it.
When asked what they most disliked about medical tourism, participants' most common answer was the cost. The third most disliked part of participation was anxiety relative to the therapy. And finally, logistics, travel, and the required pre- and post-testing were listed as disliked experiences. No participant chose the treatment as being the worst part of the experience. When asked what the best part of medical tourism was, most chose the travel. This choice is interesting as most, if not all, of these respondents traveled during the COVID-19 pandemic, a high-stress time for travel. The experience and the doctor tied for second place. These choices show that participants enjoyed the experience of trying new therapies and meeting new people.
Written feedback was about 50/50 in positive and negative feelings about the overall experience. Some felt a health improvement, others felt happy to try something that might help their condition, and a few felt anxiety during the process.
All participants acknowledged they answered the questionnaire to the best of their knowledge. The objective of this report is to evaluate the theoretical perceptions of medical tourism such as identifying if there is added value to patients to get faster access to new therapeutics, discussing biotech companies' pain points and business landscape, and making suggestions for stakeholders about new paths for drug testing. The evaluation of "added value" to patients was achieved through the survey of the 13 participants. This primary research shows that the participants want to live with purpose and desire, as well as have an altruistic drive to give back to society. Most of the people in this survey (11 out of 13) said they wanted to be part of developing new technology to treat disease even though only two participants strongly believed aging diseases would be cured in their lifetime. Furthermore, participants felt when an individual is diagnosed with an end-stage disease, it may be unethical and immoral to let the individual die if research models have demonstrated success in treating a similar condition. Further research should be conducted to see how the data presented here compares to groups that didn't seek medical tourism. The results of the survey, along with discussions about the limitations in biotech to provide treatments, leads to a proposal for a new medical tourism model allowed in the U.S. based on the "Best Choice Medicine" (BCM) route to drug development. Among other things the potential benefits of BCM to emerging biotech companies could leverage patient data to quicker clinical trial support. It is hoped that this work will attract other researchers to expand on the academic understanding of innovative drug access and further the cause of better healthcare. The findings apply to the medical tourism community, patients, patient advocates, biotechnology companies, government regulatory systems, and anyone interested in the development of new regulatory routes for terminal diseases, treating chronic conditions, and treating biological aging. Though the data shows an imperative to meet the needs of patients with a new regulatory route, the sample size is too small for statistical significance, and further development into this area is greatly needed.